Three recent reports by Her Majesty's Inspectorate of Constabulary (HMIC) have found that on the whole Cheshire Police perform well to very well. Broadly, the force should be congratulated on doing an excellent job.
However, there is one consistent theme among the reports which leaves us with a crucial question.
That theme is around record keeping systems, data / information management and scrutiny of those records.
For instance, the force has been criticised for duplicated and confusing record keeping on missing and absent children; on the failure to effectively scrutinise stop and search records to ensure reasonable grounds; and, its ability to integrate and share national agency information and data in the case of serious and organised crime in Cheshire.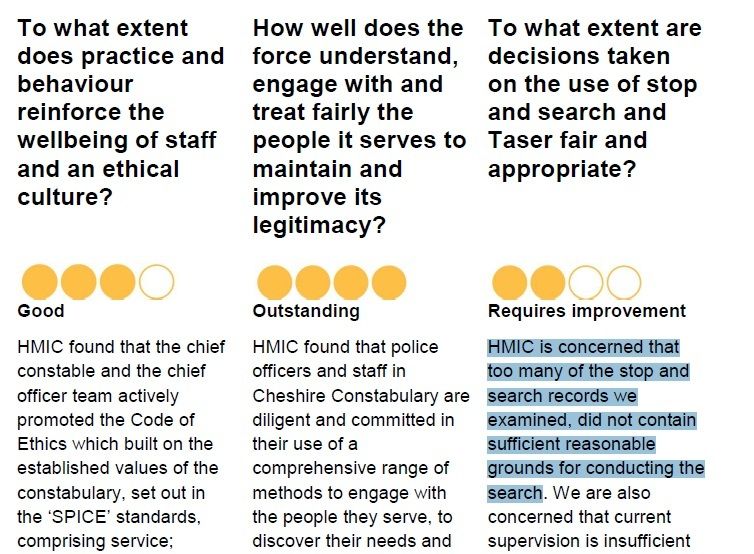 The HMIC reports suggest this weakness is being addressed but I am left wondering why we have to rely on national inspectorate to identify weaknesses when the role of the Cheshire Police & Crime Commissioner is to hold the Cheshire Police to account for their performance?
In fact, the Home Secretary has recently made the point that she expects Commissioners to deliver better IT and procurement which must lie at the heart of this weakness. IT and procurement directly impact the force's ability to manage data and scrutinise records, but also impact the Commissioner's ability to hold the force to account on behalf of the residents of Cheshire.
So, who ensures that the Commissioner does his or her job effectively?
Well, actually, you - the electorate - do. You will get to vote and elect your Commissioner on May 5th.
---
Find out more about our work - sign up for emails today:
Liquid syntax error: Error in tag 'subpage' - No such page slug get_involved
---